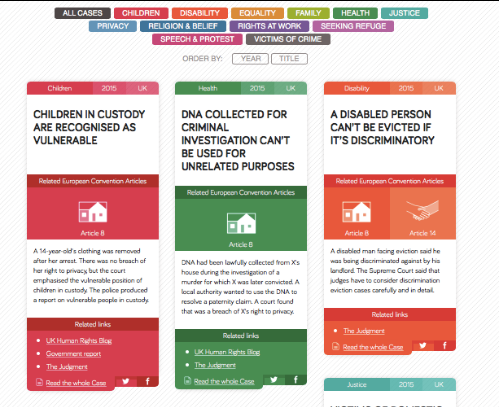 RightsInfo is a new website devoted to information about and advocacy for human rights. It's the brainchild of Adam Wagner, the barrister and founder the the UK Human Rights Blog; and has a considerable team behind it.
It tells us what human rights do for us, and tackles the 14 worst human rights myths. Over the next few weeks it's revealing 50 human rights cases everyone should know about, in the form of human stories anyone can relate to. If you're not sure where to start, here's what to do on your first visit.
What's immediately striking about the site, is its clean, contemporary look. When you combine that design and usability with content that's authoritative and engaging, RightsInfo adds up to a really interesting web initiative in the public understanding of law.
You'll certainly want to subscribe to RightsInfo if you're interested in human rights. But more importantly, it's going to be an excellent place to send anyone who's sceptical about human rights but open to persuasion. RightsInfo is an impressive new tool – and I wish it well.